Swollen Macula
Swelling types Symptoms Causes Self help More tips About central vision Conventional treatment
Swelling of the macula damages the area of the retina responsible for central vision. The macula contains a high concentration of cones which are the photoreceptors that give us the ability to focus on details and see color. The tiny fovea "pit" located at the center of the macula contains only cones.If protein and/or fluid deposits collect under the macula, it can thicken and swell and push into disorder or degrade the cone receptors.
Vitamins
& Supplements
Not sure which to get?
For help call us at 845.255.8222
Complete Product List
On a tight budget?
We recommend
Advanced Eye & Vision Support (whole food) Formula 60 vcaps
Very Important
Vitamin D3 2000 IU 90 vcaps
Strengthens immune system, reduce RA risks, supports cognitive function and is easily absorbed.

Types of Macular swelling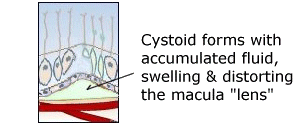 There are several types of macular edema. Cystoid macular edema occurs when fluid accumulates in the area where the cone nerve endings synapse (connect) to bipolar cells and is enclosed in a cyst. In patients with diabetes leaking capillaries can also occur in the macula; this is known as diabetic macular edema. This is the most common type of vision loss for people with diabetes (75%) if untreated.
Focal macular swelling arises from swelling in the center of the macula where the fovea is located. Diffuse macular edema occurs when other capillaries in the retina are swollen.
Symptoms
If you have these symptoms, your ophthalmologist can do a test called a fluorescein angiography or optical coherence tomography to accurately determine whether capillaries are leaking and if so, how severe the leakage is. These tests also measure how thick your retina is and the degree of swelling.
Fuzzy central vision
Distorted vision
Vision has pink tinge
Sensitivity to light
Causes
Usually the cause is that tiny retina capillaries leak from weak vessel walls into the center of the macula. The patient perceives fogginess in the middle or just to the side of the central visual field, The loss of vision can occur slowly. It rarely causes an enduring loss of vision, but can take 2 to 15 months to heal. Sometimes macular swelling can occur after cataract or other surgery but is, with treatment, usually of temporary duration.
Diseases including: optic neuritis, retinal vein occlusion, macular degeneration, diabetic macular leakage, eye inflammation, idiopathic central serous chorioretinopathy, anterior or posterior uveitis, pars planitis, retinitis pigmentosa, radiation retinopathy, posterior vitreous detachment, epiretinal membrane formation, idiopathic juxtafoveal retinal telangiectasia, capsulotomy or iridotomy.
History of use of topical epinephrine or prostaglandin drugs for glaucoma.
Cataract or other eye surgery
Trauma or eye injury
Men are at higher risk
Conventional Treatment
Treatment for swollen macula conditions may be oral medications, anti-inflammatory drops or medication is injected near the back of the eye.
Self Help
Swelling types Symptoms Causes Self help More tips About central vision Conventional treatment