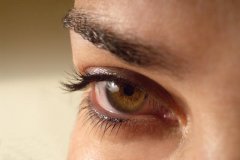 Spring will probably be a relief for all of us in northern climates, but especially those who suffer from dry eye syndrome.
A study published in the journal Investigative Ophthalmology & Visual Science describes how dry eye syndrome can be worse when temperatures sink below 30 degrees Celcius.  Since that is about 86 degrees Fahrenheit, you may need to wait until summer for weather related relief for your dry eye symptoms.  Luckily, there are other effective strategies that you can try to prevent and treat your dry eye symptoms.
According to the study, temperature affects the function of the meibomian layer of the eye, which produces the oily substance that protects the outer layer of the tear film.  The meibomian layer can become stiff and thick and cause discomfort.
Being out in the wind can also greatly exacerbate dry eye symptoms as well as living and working in the dry air so common in the heated spaces in which most of us spend our winters.
Source: Medical News Today