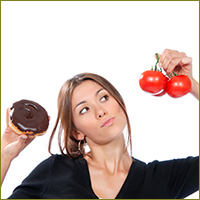 Carotenoids have been shown to protect against oxidative damage, which can prevent both macular degeneration and factors contributing to dementia-related diseases (i.e., Alzheimer's disease).1 Links have been found between these two diseases: patients with dementia were found to have poor maculas and a higher incidence of Macular Degeneration2.
However, these nutrients do not seem to be able to mitigate damage after dementia sets in. Therefore, making sure sufficient amounts of carotenoids are ingested at all ages (youth, middle age, elderly and advanced age) may help head off macular denegation and/or dementia. The incidence of both diseases skyrockets in the elderly, after a lifetime of stressors catches up.
The Standard American Diet (SAD) does not contain enough brightly-colored fresh fruits and vegetables; and dark, leafy greens. Thus, our diet does not typically provide enough carotenoids. It is easy to take pills or liquid supplemental carotenoids, such as lutein, astaxanthin, zeaxanthin, lycopene, and beta-carotene (to make vitamin A). Many combination supplements are available, and some include coantioxidants such as copper, zinc, vitamin C and vitamin E.
The cost of caring for a patient with advanced dementia can run hundreds of thousands of dollars per year, and day-to-day care may not be covered by health insurance or Medicare.3 The incidence of Macular Denegation is expected to be even higher than the incidence of dementia in the new future. Intermediate and advanced Macular Degeneration patients often need home care, too.
A small amount spent each day on a healthier diet and carotenoid supplements is a pittance compared to these numbers. The human cost — loss of functioning and independence in our advanced years — is immeasurable.
"Protective Effects of Dietary Supplementation with a Combination of Nutrients in a Transgenic Mouse Model of Alzheimer's Disease" Shengyuan Wang et al., PLoS One. 2015; 10(11): e0143135. Published online 2015 Nov 25. doi:  10.1371/journal.pone.0143135 PMCID: PMC4659639 ↩
"Macular pigment, visual function, and macular disease among subjects with Alzheimer's disease: an exploratory study." Nolan JM et. al. J Alzheimers Dis. 2014;42(4):1191-202. doi: 10.3233/JAD-140507. ↩
"The Burden of Health Care Costs for Patients With Dementia in the Last 5 Years of Life" by Amy S. Kelley et. al. Ann Intern Med. 2015;163(10):729-736. doi:10.7326/M15-0381 ↩
Summary
Article Name
How Carotenoid Supplementation Could Prevent Macular Degeneration and Alzheimer's Disease
Description
Ensuring adequate intake of carotenoids at all ages could prevent Macular Degeneration and dementia, including Alzheimer's Disease.
Author