Retinal Support - Surface of the Retina
Membrane Causes Nutrients About the vitreous
Photoreceptors Connective Hole / Wrinkle in the macula Sugar balance Vitamin A
Epiretinal Membrane
Retinal damage can occur in the form of a pucker or wrinkle caused by an epiretinal membrane. Under adverse conditions such as an immune response, a thin layer of cells covering the retina surface forms and may draw together pulling the vitreous away from the retina and creating a wrinkle in the retina surface. Wikipedia reports that not only can a pucker result, but swelling such as macular edema may occur as well.
Vitamins
& Supplements
Not sure which to get?
For help call us at 845.255.8222
Very Important
Pure Focus
Sublingual vision support.

Such damage effects vision similarly to that brought about by macular degeneration; both can arise due to changes in the vitreous. If the retina is damaged, the process of healing may leave a scar in the form of the epiretinal membrane.
Causes
Often, the membranes are seen following a posterior vitreous detachment (where the vitreous gel that fills the eye becomes more liquid, causing a strain on tissues that in turn causes a separation from the retinal lining of the eye). Occasionally an epiretinal membrane can appear without any obvious underlying cause.
Non-nerve retinal cells (glia) multiply along the inner surface of the retina lining. Small defects allow them to push through to the inner surface between the retina and the vitreous fluid and build a thin wall of tissue that can fold and pucker, distorting the macula. Membranes are seen with many retinal vascular conditions, retinal detachments and breaks, trauma to the eye, inflammation of the uvea (uveitis), and following retinal and intraocular surgery.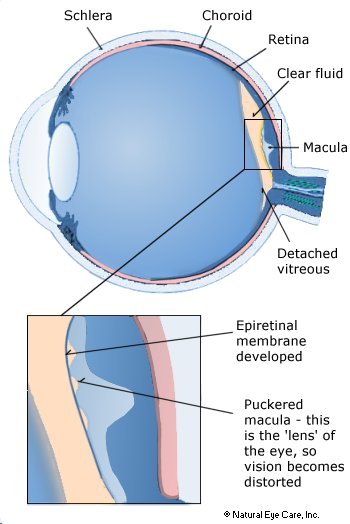 Related conditions